Indie-Music Network is dedicated to helping musicians successfully create, produce, and sell their music…so we are not about to direct you to a musical instruments  store that will only let you down, and slow you down in your progress to achieve your music goals.
zZounds is a first class gear company with a huge inventory of name brand music gear, top music percussion instrument solutions, music keyboard instruments, and a host of other tools that can help assists you on your journey to create, produce, and sell your music online with amazing success.
Also, they have a large selection of discount musical instruments  that is world-class, and contains blowout specials on opened, discontinued, and returned items. Some great blowout specials will be highlighted on this page, so check out these great deals below.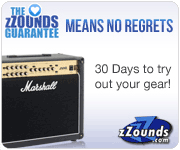 zZounds has been online since October 30, 1996.  In that  time they have…
·         Received more than 425,000 happy customers…and this number is growing.
·         Provided the Lowest Price Guaranteed- if you see a lower publicly advertised delivered price, they'll beat it. And if you see a lower publicly advertised delivered price within 30 days after your order ships, they'll refund you the difference
·         Offered extremely low or Free Shipping Costs- They lose a lot of money on shipping but it is worth it because they do what it takes to keep their customers happy.  They understand that a happy customer is a loyal customer.
·         Removed Sales Tax for all orders outside of NJ…and the list goes on.
All customer orders are sent securely from their website to their mainframe system for processing.  Unlike other gear companies you may encounter there are no worries that your order is misplaced, your address is printed wrong on the shipping label, or that your credit card will be charged the wrong amount when you work with them.
Another benefit of working with them is that they hire musicians to provide customer support.  After all…who understands the needs of musicians, better than other musicians? They also don't get paid on commissions, so you can be assured that you only receive genuine assistance to help with your equipment needs.
They have also made some recent improvements to the website.  The large image views with different perspectives and detailed product information is great for getting a close up look at the product, so you can make sure you're ordering exactly what you want, when you want.
With all that said, you'll see that they are running a very tight operation.  So tight  that we really are hard pressed to find any areas where they need to improve on.
The only improvement opportunity we saw is that zZounds  should make sure they get more precise in estimating when backordered products will be in stock.  Normally, this is not an issue but on very rare occasions the time estimates are a little off.
 Here's a few zZounds Testimonials
"I never have to worry about a single thing when buying from you!" Customer on Mar 16, 2007
"I ordered this amp at Noon one day—and received it at 11AM THE NEXT DAY! Unbelievable!!! Customer on Mar 8, 2007
"Always trouble free and painless!!"- Customer on Mar 16, 2007
Discount Music Instruments Blowouts
 zZounds is a musical instrument store that takes high quality, amazing service, and low prices to a new level.  They have some great blowout specials on their gear right now, and if you are ok with having a blemish or two or a factory resealed box (still in great quaility), you can really find some unbelievably low prices that will be difficult to beat.  Check out some featured blowout specials by visiting the links below.

Printable Sheet Music
Visit this link for today's hottest printable sheet music specials

Music Keyboard Instruments
Visit this link for today's hottest keyboard specials

Music Percussion Instruments
Click here for the top percussion deals today!
Check out  more percussion specials right here

Create Music Beats
Visit this link for the latest DJ gear…create hot music beats now!

Music Stringed Instruments
Click here to shop for amazing guitar specials

Music Stringed Instruments and More
Check out the latest deals on Bass gear right here
Visit this link for more hot Bass blowout specials

Music Electronic Instruments
Click here for today's featured recording gear
Bottom Line: zZounds is an Online Music Instrument Store that provides high quality gear at low prices.  They have a great product selection, and has a history of showing a lot of commitment to their customers to keep them happy.  They even hire musicians that aren't on commissions to provide technical support, so you can be assured that you are dealing with someone who knows  the ins and outs of the products your interested in, and can truly stand behind their products.  They also offer a guarantee to beat any price (even up to 30 days after your order ships), and provide a 30 Day price protection program.  That means that if you do find a lower price AFTER you purchase, they will refund you the difference! It doesn't get much better than that.
On very rare occasion, their estimates on when back-ordered products will be in stock again are a little off. But based on the amount of satisfied customers they have, this has only been a very minor issue.   Overall, we have not found any other US gear company that has delivered on the high quality standards and customer commitments better than zZounds, and that is why…zZounds gets our top US gear pick. 
Insider Tip:  Zzounds has an online catalog that you can browse to find products, and blowout deals. Also, most of the the products you check out will have reviews from customers who previously purchased the product(s) you're interested in buying, so you can be confident of the quality of the product, before you buy it. If you want to save some money, you can take advantage of their great blowout specials (we highlighted some above). If you can live with a blemish or factory resealed box, this is a great way to go if you want to save cost, and still get high quality equipment. Last, but certainly not least, they guarantee to beat any price, and remember there is a 30 Day price protection program- so if you find a lower price AFTER you purchase, they will refund you the difference!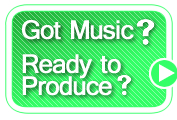 Now that you've got your music instruments you can work on recording and producing your music.  Click here for tips on how to Produce Music.