If you would like to be selected as our next featured artist at Indie-MusicNetwork.com please:
1) Read this page for more details
2) Like Us on Facebook and
3) Submit the Featured Artist/Band Submission Form below.
Note: Our featured artists are randomly selected and only completed entries will be considered.  This is a free service we offer to provide additional music exposure for indie music artists, bands, and songwriters.
***Important*** Please Read Everything Carefully and Completely to Avoid Delays:
WARNING: Please – DO NOT email music to us.

We will not be reviewing any music submissions received via email.  Our Submission form is coded to direct your submission to the proper place on our server. Sending a generic email will be filtered automatically by our database and will not be seen.  Please complete our Featured Artist/Band Submission form below for consideration.


When introducing yourself to IMN and our audience be creative and include the following if applicable
:
Your Artist/Band name
Your main artist website address
Link to your EPK, Facebook fan page, MySpace music page, or any other such credential.
If you are PR/Management for the band or artist you are introducing, you must have gained permission from the band or artist to submit music and you must state that you have this permission.
REQUIRED: Email address where we can notify you in the event that you are selected as the featured artist.

Other Stuff You Should Include in Your Submission:
The Following inclusions are important for your image and message to be seen by our readers:
Album Art: Album art is typically square in dimension, but any roughly square image of you and/or your band that can be cropped to equal width and height is fine. The best format for this a JPG image file. The Uploader page is perfect for sending this image file because you can simply include it with your favorite song file that you choose to upload.
Links To Purchase: What would be worse than having someone love your music, and not being able to find a copy. If your setup with an online account such as iTunes, Amazon.. etc..then please tell us that link so we can send listeners to purchase your music.
Artist Homepage Link: Let us know the address of you or your band's home page and we will link our readers back to more of your info. This can be a MySpace page, Facebook fan page, or any other page you use to promote your band.
Sample Featured Artist Submission (without mp3)
:
Elise Hayes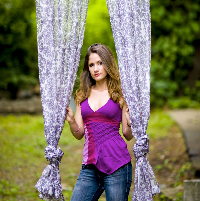 Elise Hayes likes to describe herself as a Pop artist with an R&B/Soul sensibility. With influences ranging from James Taylor to Gladys Knight, Elise affectively blends thoughtful songwriting with a soulful punch.
Elise began her musical endeavors in the quaint, New England town of Keene, NH. Now a city girl, Elise lives in Boston, MA where she attended Berklee College of Music. There, she was given the opportunity to perform with and for several music industry giants such as Barry Eastmond, Steve Winwood, Philip Bailey, Rosa Passos, Howard Shore, and many more.
In 2008, she formed the Neo-Soul group, Sutra, and they collectively performed all over New England and the Boston bar circuit (Harper's Ferry, Middle East Upstairs and Downstairs, Harp, Cask and Flagon, Bill's Bar, Church of Boston, Polcari's, Mt. Snow, Henesseys, The Green Dragon. She was also the recipient of an award for Outstanding Achievement in Vocal Performance in 2009.
Now, at the end of her college career, Elise has just released her first EP, "Steady the Pace" in December of 2009. She can't wait to share her music with listeners and hopes that they can find solace together through music.
For more information visit: http://www.elisehayes.com
To purchase Elise's music visit: http://www.itunes.com/elisehayes
Comments or questions are welcome.
Note: Your music submission carries with it your implicit permission to post tracks in our Featured Artist Section as well as your authority to grant such permission. If you have restrictions on which tracks we may or may not play, you must CLEARLY communicate that information to us along with your submission, or anytime thereafter. Indie-Music Network.com does not claim any ownership over your creative works. We simply want to feature you!
Thank you!
If you have any questions at all, please don't hesitate to ask us. And again, we're so excited to be having the chance to hear more of your music!
A reply to your inquiry will be sent to the e-mail address you provide in the contact form. Please be sure to white list e-mails originating from indie-musicnetwork.com, and check your spam folder in case our reply seems tardy.